Surf Sports is the area of Surf Life Saving that provides members an opportunity to practice and refine lifesaving skills in a competitive environment. Members may compete in a range of disciplines at a range of levels from local to state and national competitions.
Competition can range from events that focus on endurance and athletic skill such as board or ski paddling to events that focus on honor and tradition such as March Past or Rescue and Resuscitation (R&R). Some events such as IRB Racing and Patrol Competition are designed allow members to refine skills and test knowledge they would use in a rescue or patrol situation.
All members in the Nippers program who are eligible to compete may participate in the junior carnivals at a range of levels. Members from the U14 to Masters age groups are able to compete if they hold their minimum qualification (SRC or Bronze Medallion) and have completed their patrol hour requirements.
For more information about junior carnivals and competition standards, along with junior training and coaching, see our Nippers information.
Surf Boat Events
Before motorised rescue craft were introduced into Surf Life Saving, Surf Boats were used to rescue swimmers in trouble. Whilst rescue methods have changed, 'Boaties' still train in the art of maneuvering these huge wooden boats through tough surf conditions. Surf Boat events are offered to competitors U19 to Masters.,
Surf Craft Events
Surf Craft events involve tests of physical ability on a Surf Board and Surf Ski. These are completed as individual events as well as team events, in the form of relays, board rescue, in which a simulated rescue takes place, and double ski, involving two people on the one craft. Whilst board events can be participated in throughout Nippers (U9-U14), Ski events are for competitors U17 to Masters.
Surfboard Riding
Surfboard riding competitions are held throughout Surf Life Saving as tests of a participant's style, skill and ability whilst riding waves. These competitions include both short and long surfboard events in a range of age groups.
Multi-discipline Events
Events where more than one discipline is performed are termed 'Multi-Discipline' events. These events include the ever-famous Ironman and Ironwoman events, a test of endurance and skill in both the water and out, along with a range of relays in which a different person performs each 'leg' of the race. Relays can include ski, board, swim and beach run 'legs' and give participants the chance to compete as a team using a variety of disciplines.
Beach Events
Beach events include beach sprints, sprint relays, long-distance beach run and the famous flags event. Beach events are tests of speed and skill and are participated in from U8 to Masters levels. They are a crowd favourite at any Surf Life Saving carnival.
March Past
An original event in the world of Surf Life Saving, the March Past represents the traditional discipline of the Surf Life Saver. The twelve-person teams showcase skill, ability and pride for their club when competing in this crowd-favourite event. Bundaberg has a long and successful history in the March Past event, something that both juniors and seniors at the club keep alive by continually competing at a range of levels.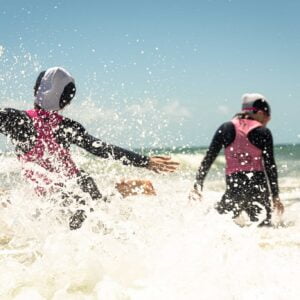 Swimming Events
Swimming ability is a prime factor of Surf Life Saving. Swimming events include 'simulated rescue' races done using tubes and belts along with surf and wade races that test physical ability in and around the surf environment. These events are done both as individual and team events, encouraging patrolling members to keep fit for lifesaving duties.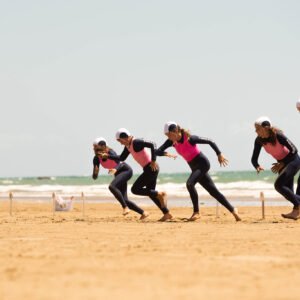 Lifesaving Events
A variety of competitive events are designed to highlight the skills involved in rescue, resuscitation and first aid. These include rescue and resuscitation (R&R), an event that encompasses individual and team rescue and resuscitation skills, Inflatable Rescue Boat competition, involving rescue techniques using a motorised craft, Champion Lifesaver, an individual event involving the many disciplines required to be a lifesaver, First Aid Competition and Patrol Competition, a team event involving all the aspects required of patrolling the beach effectively.